Mobile Casinos : The ability to play whenever you want, wherever you want !
The world of online casino is something that changes very quickly. Just a decade ago, no one could have imagined the boom in mobile casinos today.
In our guide, we will see together how this new way of playing online gambling works and what makes it different from playing on a traditional computer.
A mobile casino, what exactly is it?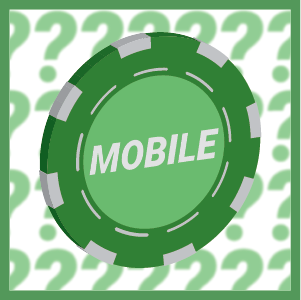 Before going any further, we first need to define what a mobile casino is. It is an online casino accessible from a smartphone running via Google's Android or an iPhone designed by Apple, but also from a tablet such as an iPad.
While the size between the screen of large tablets and that of a mini-PC may be similar, our definition of a tablet will consider that it must run under an iOS or Android operating system, while a computer will use Windows most of the time.
In most cases, a real money mobile casino will not only work on mobile devices. A computer version is usually still available for purists or for people who prefer to play on a larger screen.
There are some platforms that have chosen to operate only via a mobile application, but these are generally establishments where it is only possible to play for play money. It will therefore not be possible to generate winnings by playing from these types of applications.
The history of gambling on cell phones and tablets.
Gambling on a mobile device did not happen overnight. If you were familiar with phones before the advent of smartphones and tablets, such as the Nokia 3310 and other Sony Ericsson devices, you may find that it was difficult to transfer an online casino to such a device. The screen resolution was minuscule, the images were vulgar pixels, the memory size was ridiculously low, and so on.
During the early years of internet gambling, playing for real money was only possible from a computer. Indeed, mobile phones were not at all suitable for running games with elaborate graphics or complex random generator algorithms.
Gaming on a mobile device was able to take off when the first iPhone was released. We finally had a device powerful enough to run online casinos. However, few online casinos saw an opportunity at the time. It was necessary to design a specific application, which required a lot of resources. In many cases, the graphics and playability were far below what existed on the PC, which made players reluctant to use their phones to play.
At the time, there was also another major problem: the unreliability of the cellular internet. The speed was very slow and connection cuts were frequent. It was therefore not at all convenient for playing, and even a nightmare for some people.
However, over time, things have changed. The power of mobile devices has grown, the quality of Internet connections has improved and many talented programmers have joined the online gaming industry. All of this has resulted in a dramatically improved user experience.
Nowadays, mobile gaming has become something commonplace. Many people prefer this more user-friendly and easy-to-use format.
What are the advantages of playing at a mobile casino?
Here is a list of the highlights of mobile gaming:
You can play anywhere you want as long as you have an internet connection. So you can play from your bed, on the beach, during a break, etc.
It is much faster to start games from mobile casino. This is ideal if you only have a few minutes to play, which would not be possible from a computer.
Immersion is more intense on your smartphone. You won't be distracted by using Facebook or watching videos on YouTube. So you can focus 100% on your games.
The games are now designed primarily for mobile device owners. For many years, the design of games favoured PC owners. Now, as mobile gaming is booming and mobile devices are likely to become the majority of devices in the near future, programmers are working to maximize the user experience for people playing with tablets or smartphones.
Some games are only available on a mobile device. Thus, you can take advantage of an offer that is not available to players with a computer.
There are bonuses especially designed for mobile casino users. This is not the case on all platforms, but some offer special benefits to individuals who use their smartphone or tablet to play.
Dedicated applications and responsive sites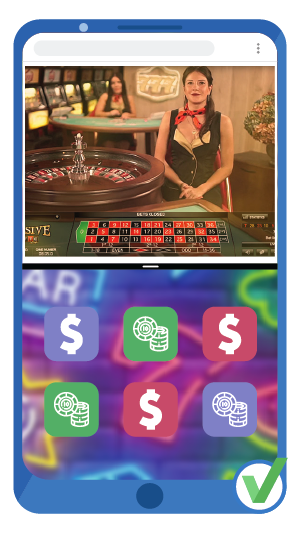 At the beginning of the era of mobile gaming, just like in the early days of PC gaming, it was mandatory to download an application or program in order to be able to play. This was time-consuming and you had to download the corresponding software every time you changed devices.
Now it is possible to play at a mobile casino directly from the internet browser built into your device. With very few exceptions, this is the case on the vast majority of platforms.
To enable this, online mobile casinos have designed a site that is described as "responsive". This means that the format of the site and the games will automatically adapt to the size of your screen regardless of the device you are using.
In some cases, the menus are arranged differently and the buttons on some machines may be in other places. But that's not really a concern, as this has been thought out to make the casino easier to get to grips with. Each adaptation has been specially designed to make the user experience as good as possible.
While playing from a responsive site has certain facilities, there are some drawbacks. For example, games may take longer to load, or your browser may become unresponsive during games. This is why some establishments have decided to create a dedicated mobile casino application.
By using an application to play at the online casino, you are guaranteed that the games will load quickly, as they are already present in the program, and that the stability of the software is at its maximum. If you always play from the same device, then it might be interesting to consider playing from a mobile casino on the internet that has an application. The initial download will take some time, but once it's done, you'll save precious minutes at each of your next games.
Is the experience better using smartphones or tablets?
The user experience from a handheld device will be different depending on the type of device you are going to use. While game quality, loading time and bonus or welcome offers are almost always the same, the user experience is different.
If you play from a smartphone, whether it's an iPhone, Android or Samsung Galaxy, you usually have this next-generation phone with you at all times. So you can play games whenever you have some free time by simply taking this device out of your pocket. If you choose to play games via a tablet, such as an iPad, it is more difficult to play games spontaneously because you don't usually carry this device with you at all times.
Another element to be taken into account is also the grip, in the literal sense of the word. If this is not an important criterion from a computer running Windows, for mobile casino gambling, it is a point not to be neglected. A smartphone fits easily in your hand and the different buttons are quite close together. This allows you to click faster on the different elements, but you also run the risk of clicking in the wrong place. The tablet helps to avoid these clicking errors, but is more cumbersome due to its larger size. However, it allows you to access your games on a larger screen size, which can increase the feeling during games.
Ultimately, whether the experience is better from an iPhone, Android or iPad is a matter of personal preference. It's up to you to decide what seems best for your playing style.
Market shares of real money gambling from mobile devices
It is difficult to estimate the market share of a mobile casino, since the exact data are not published by the establishments themselves. That said, some extrapolations can be made based on the data we have and by making some logical deductions.
From now on, all the games on the market are compatible for a mobile casino. There is no longer any game that only works on a classic Windows PC. Those days are over. In addition, some publishers are designing their mobile games primarily for the iPhone, iPad and Android. The quality is designed to be optimal above all on a mobile device, although the PC version is always of good quality.
French mobile gaming is also made easier thanks to the responsive function of online casinos. As a result, establishments where you had to download an application to play tend to disappear. Everything is done directly from the web browser integrated into your smartphone. This is an undeniable sign that platforms want to promote gambling from mobile casinos.
It is therefore easy to deduce that the market share of the mobile online casino is increasing year after year. However, it is impossible for us to define the percentage that this represents in the operators' profit and loss accounts. However, there will inevitably come a day when this share can no longer increase, because some people will continue to want to do so from their computers. But the growth of mobile gaming may still take several years before it gets to that point.
Are the games different for players depending on the device used?
Whether you are playing from a mobile phone or a conventional computer, you have access to the same games:
Slot machines.
Poker versus dealer.
Table games: blackjack, roulette, craps, baccarat, etc.
Machines with progressive jackpots.
Video poker.
Live casino games with a live dealer.
However, there may be some small differences:
Some publishers of live games have designed their version only for PC. It will not be possible to play from a mobile casino. If you want to play blackjack or roulette with a webcam-camera dealer on some platforms, you must have a computer.
The old slot machines and Video Poker are only available on computer. In rare cases, when the game is popular, a mobile version is nevertheless created.
Some games are exclusive to smartphones and tablets because the mobile casino may not have wanted, or forgot, to make the version available to computer owners.
Buttons and menus can be arranged differently to improve user comfort on a small screen. However, the game remains the same, with the same concept and graphics.
Overall, there is no difference between mobile casino games on iPad, iPhone and Android. If a game runs on one of these devices, it will work on the other two. The only differences are between a mobile device and a computer.
Are the bonuses for mobile and computer online casinos the same?
The bonus policy differs from casino to casino. It's not really possible to generalize, as you can find just about everything and its opposite. Here are a few examples of what you can expect:
Free welcome bonuses are usually usable on both mobile and computer. Most of the time they are identical.
Sometimes, especially when it comes to free spins, it may be that only the computer version allows you to use this offer. Nevertheless, more and more establishments are allowing their customers to use free spins indiscriminately on any device.
A specific casino bonus may be dedicated to mobile casino users. For example, you can receive bonus money after downloading the application for your mobile phone.
While some casinos offer a welcome offer based on the amount deposited, offering larger amounts for deposits, or using a specific deposit method, there is no specific welcome offer for iPhone, iPad or Android device users.
The betting requirements are the same regardless of the device used to play for real money. For example, the wagering requirements for free spins will be the same on PCs and mobile phones. In case the free spins have no conditions to meet, then they will be yours as soon as they are finished using them, whether it is from a smartphone or a tablet.
Conclusion about mobile casino gambling
As we have just seen together, players who have made the choice to play their games on a mobile casino will not necessarily be better or worse off than others. They will be able to play poker or roulette from any device, they will be able to claim free bonuses from their Android or iPhone mobile phone, on their iPad tablet or on their Windows computer.
The most important advantages for players are the fact that they can play in the location of their choice and for very short periods of time. This is especially true when the user has a smartphone that he or she carries around with him or her at all times.
In the early days of real money gambling on the internet, mobile phones did not have enough power to run a mobile casino. And as for the tablets, they didn't exist yet. It was not until the release of the first iPhone that the industry became interested in this new way of playing.
Nowadays, mobile gaming is becoming more and more popular. Platforms are making gaming more accessible through their responsive sites and games are designed primarily to enhance the user experience from a smartphone or tablet. This is reflected in mobile casino market shares that are steadily increasing in comparison to conventional PC gaming.
The games available include classic blackjack, roulette, poker and slots on any type of machine. However, the button layout will be adapted to the screen size of the device. As far as bonus offers are concerned, free spins, free welcome bonuses and other promotions are generally valid on mobile as well as on computer. However, on some platforms free spins may not be playable from a mobile phone.
Mobile Casino FAQs
Here is a list of recurring questions about the mobile casino and our answers to them:
✅ Why play at the casino on your mobile phone?

Mobile gaming allows you to quickly take part in games and play from anywhere. It's ideal if you only have a few minutes and a mobile phone in your possession. Discover the other advantages of playing at a casino on your mobile!

✅ Is the quality of the experience the same?

The experience is somewhat different. However, the quality is there, as games are now designed primarily to enhance the user experience from a smartphone or tablet. Here's our conclusion on the mobile gaming experience!

✅ Are live games available on mobile phones?

It depends on the casinos you play at. On some platforms it is possible to play live games from a mobile phone. On others it will not be possible. Feel free to try several casinos that we recommend in our list to find one. See the games available on mobile.

✅ Are there many online casinos that have mobile applications?

Mobile gaming is now possible on almost all platforms. However, most of them use a responsive version of their site to offer mobile games. There are very few casinos that still use an application for their mobile offering.